Remembering our Ten Mile Lake Friends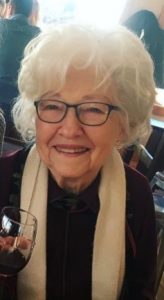 Irene (Jo) Brinda Benesh, age 94, of Port Edward, WI passed away on March 17, 2020.
Irene was born on March 11, 1926 in Minneapolis, MN. She graduated from Edison High School in Minneapolis in 1944 and went on to work in the Law Admissions Department at the University of Minnesota. When her high school sweetheart George Benesh returned from the Navy in World War II, they married on August 3, 1946. They were married just 23 days shy of their 70th wedding anniversary.
Knitting, crocheting, rosemaling, and bridge club were a few of Irene's favorite hobbies. However, what was most important to her in life was her devotion and unconditional love for her husband George, family and friends. Irene loved those all around her fiercely and her family knew how special they were to her. She wanted to be at every special event and milestone and if she couldn't, she wanted to hear all about it. Irene's family was her pride and joy. Her last exciting trip was to Arizona in February to see her granddaughter's new home and beloved dogs, Winston and Teddy.
Irene is survived by her devoted daughters Linda (Douglas) Gremban and Amy (David) Rasmussen, loving grandchildren Jeffrey (Meghan) Gremban, Matthew (Xin) Rasmussen, Michael (Kristin) Gremban, Megan (Nathan) Erickson, and Nicholas  Gremban and nine great-grandchildren Elijah, Isaac, Spencer, Abbie, Hunter, Nora, William, Martin, and Emily.
She is preceded in death by her parents Frank and Mary Brinda, husband George and sisters Mary, Ann and Helen.
As a vibrant and spirited woman, Irene was still independent enough to live alone in her own home after the passing of her husband. People loved Irene's style, from her hair to her nails to her clothes. But her greatest gift of all, was that she taught her daughters what it meant to be a mother, to nurture and to love and care.
A private service will be held at a later date. Feldner / Ritchay Funeral Home of Nekoosa is assisting the family.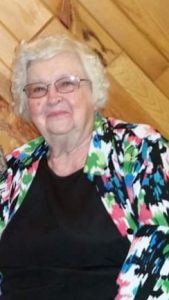 Mildred Genevieve Cogdill was born on October 4, 1927, to Frank and Martha (Pick) Foecke on the family farm near Crofton, Nebraska. She was the second of twelve children. She was baptized at Saint Rose of Lima Catholic Church in Crofton. She attended Saint Rose School for several years and then country school, as the family moved to other farms. She attended Holy Trinity High School in Hartington, Nebraska. During the summers she helped area families with small children and babies. She graduated in 1944. Mildred had earned a Certified Rural Teachers Certificate. She was only fifteen when she began teaching. At the start of her third year, she met a young man roller skating, his name was Robert Cogdill. They were married on July 10, 1948, at the Holy Trinity Catholic Church. Bob farmed with his father near Coleridge for a number of years. In 1952, the couple moved to Panama, Iowa with their three children. Soon after, there were five more children. These were busy years, milking cows, raising chickens and gardening.
Mildred was active with church and school activities. Bob and Mildred tried bowling, square dancing and loved to tour the country. In 1972, they moved to the Dunlap farm. Mildred worked in the Religious Education and served on the church council. In 1995, they moved to Dunlap and Bob continued to farm while Mildred became more active in church. She was also able to attend more of the grandkid's activities. She loved going to their lake home on Ten Mile Lake in Minnesota.
Mildred died on Tuesday, February 18, 2020, at the Burgess Hospital in Onawa at the age of 92 years, four months and 14 days.
Mildred was preceded in death by her parents; son, Edwin Cogdill; twin grandsons, Ryan and Bryan; and seven siblings, Harold Foecke, Genevieve Owens, Delores Lintel, Ralph Foecke Sr., Rhoda Foecke, Dennis Foecke, Irene Goeken. She is survived by her husband, Robert of Dunlap, Iowa;  seven children, Sam (Sue) Cogdill, Pat (Joyce) Cogdill, Tim (Susan) Cogdill, Frank (JoEtt) Cogdill, Martha (Richard) Rose, all of Dunlap; Doris (Patrick) Montang of Council Bluffs, Iowa; Tony (Linda) Cogdill of Panama; daughter-in-law, Barbara Cogdill of Ankeny; twenty-two grandchildren; two step-grandchildren; over 50 great-grandchildren; four siblings, Jerome (Carolyn) Foecke of Dassel, Minnesota, Geralda (Charles) Tramp of Crofton, Nebraska, Mary Davis of Denver, Colorado, Barbara (Charles) Macdonald of Florida; many nieces and nephews; and many other relatives and friends.
Services were held Friday February 21, 2020 in Iowa. Memorials to the TMLA, P O Box 412, Hackensack MN 56452 or the Hackensack Fire Department.