Andy Biebl |  President
As a youngster, I was introduced to Ten Mile Lake reading the columns of the New Ulm Journal editor, Bill Macklin.  Bill's weekly summer columns were written from his cabin and extolled the virtues of northern Minnesota and pristine Ten Mile Lake.  In the early 1990s, my wife Anne and I rented a friend's cabin on Sunset Beach for a week each August.  That led to acquiring our present property in 1993 on Snowberry Trail on the north side of Long Bay.  For the last ten years or so I've been a member of the Conservation Committee and currently serve as co-chair with Jim Miller.  I am also a current member of the Northern Waters Land Trust Conservation Committee.
I'm a retired CPA who keeps busy with fishing, teaching at a university as an adjunct faculty, and several other board and volunteer roles.  But even during my working career I maintained an active involvement with nonprofit boards.  I've served as board chair of a Chamber of Commerce, a hospital, a K-12 school system and the Minnesota Society of CPAs, among others.  I continue to enjoy working with the great group of volunteer committee and board members who make the Ten Mile Lake Association one of the best in the state.  The best retirement gig of all, however, is having our three kids and five grandkids visit us on beautiful Ten Mile Lake.
---
Erin Adam | Vice-president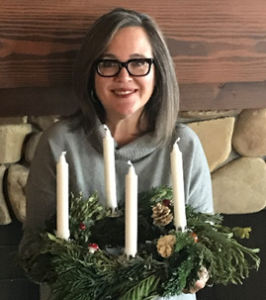 By Ten Mile Lake standards, I am a newcomer. My husband, Steve, and I built our house near Sandy Beach in 2013, a year we hope will mark the beginning of a long family history on this incredible lake. Our two sons and their wives currently live on either coast and our place here has become the family gathering spot for holidays and those sweet moments of summer fun. Yes, Ten Mile Lake is beautiful and the water and fishing are unparalleled, but one of the things that I value most about it is that our lake is what I think of as a generational lake – a special place that works its way onto the center of your life and then casts its net across generations.
This generational aspect of Ten Mile is important to me because I moved a lot when I was a kid. California, North Dakota, Montana, Colorado, Pennsylvania, Iowa, Minnesota, and Wisconsin have all been home to me at one point. I am a 1980 graduate of Ames High School in Ames, Iowa and a 1984 graduate of Carleton College. I have work experience in human resources and accounting, but my main occupation has been raising our two sons and now helping to care for our four elderly parents. Like many mothers, I served as a volunteer in my kids' schools and on several church and community committees. I then ran for election in 2000 and served on the Minnetonka School Board for 12 years. I enjoyed helping high-performing organizations become better and I look forward to continuing that work with the wonderful people already involved with TMLA.
.
---
John Hallberg  |  Secretary

I came to Ten Mile, for the first time in 1974 with my soon-to-be wife, Lolly, and it was love at first sight. We stayed at the family cabin on Angel Island during our summer visits. In 1988 we began to extend our visits by renting the Moos cabin so that we could enjoy a longer stay. In 2008 after we both retired from 32 years of teaching in Colorado, we moved into our own place on the south shore. Now we can spend 5 ½ months on the Lake before heading back to our winter home.
I became interested in the TMLA by joining the Adopt-a-Highway Committee and also the E & E Committee. I began to attend the board meetings after I became chairperson of the Highway Committee. After a few years, I became secretary of the TMLA in 2019.
---
Roxy Moon  |  Treasurer

I am kind of a newbie on Ten Mile Lake as we came to the lake in 2007.  We followed our best friends, the Blommes, knowing in our heart that Ten Mile was eventually where we wanted to spend our retirement years.  After thirty-five years in the accounting profession I retired in 2013 and after 59 years in our home town of Marshall, Minnesota we made Ten Mile Lake our permanent residence in May, 2015.
During my accounting career I was a tax accountant and an auditor for ten years including the auditing of several non-profit entities.  My second decade of my career was spent as the accountant for SSU Foundation a non-profit entity I had  previously audited.  The last fifteen years of my working career I was the Finance Manager for the local community utility.  I am married to my wonderful husband, Kenny of 41 years, with three daughters and four beautiful grandchildren.
---
Linda Schwartz | Advisory